Bessemer opens doors on first Storm Shelter
Gray autumn skies didn't dampen the enthusiasm as officials with the City of Bessemer cut the ribbon and opened the doors on both a Community Storm Shelter and an Emergency Operations Center Storm Shelter.
The shelters, located at the Bessemer Police Department's Emergency Operations Center at 651 Ninth Avenue Southwest, are the culmination of a process that started in April 2014 when an EF-2 tornado sliced through the heart of the Marvel City, damaging some 800 buildings, said Bessemer Mayor Kenneth Gulley.
"We recognized at that time that there was a need that we needed to fill. So we went about trying to secure dollars from the federal government in order to do what was necessary to build these shelters," Gulley said.
"It's important to the citizens of Bessemer that when we have severe weather, that they have somewhere to go that they can feel safe."
The city secured a FEMA grant that paid for 75 percent of the cost of the Community Storm Shelter. The remaining portion of the $579,000 needed to construct the two buildings came from local funding. The Emergency Operations Center Shelter was paid for entirely from the city's E-911 funds.
The shelters are the first in Bessemer. The Community Storm Shelter can hold up to 100 people in the event of severe weather. The EOC Shelter sits next door. It can hold up to 60 Public Safety personnel and is designed to function in the event that the city's Emergency Dispatch Center is disabled by a storm.
The buildings have the appearance of a brick exterior, but are entirely concrete. Both can sustain winds of up to 200 miles per hour.
The October 16 ribbon-cutting was held in conjunction with the state's Fall Severe Weather Awareness Day.
Bessemer is no stranger to storms. The April 2014 storm was notable for the damage it did at the Frank House Municipal Golf Course, where the former Clubhouse was destroyed, and at the Timberline West Apartment complex. Both properties have recovered. That tornado just missed striking the Medical West Hospital.
No one was injured in the 2014 tornado, but Gulley said the storm emphasized the need for Bessemer to secure funding for a shelter, especially with Central Alabama being located in the infamous Dixie Alley.
In March 2016 a tornado trekked into Bessemer's Greenwood neighborhood, where several homes were damaged. Again, no one in Bessemer was injured in the storm.
Gulley said the goal now will be to identify and secure additional resources to construct more storm shelters in the city.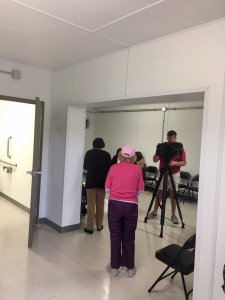 YOU MIGHT ALSO LIKE THESE